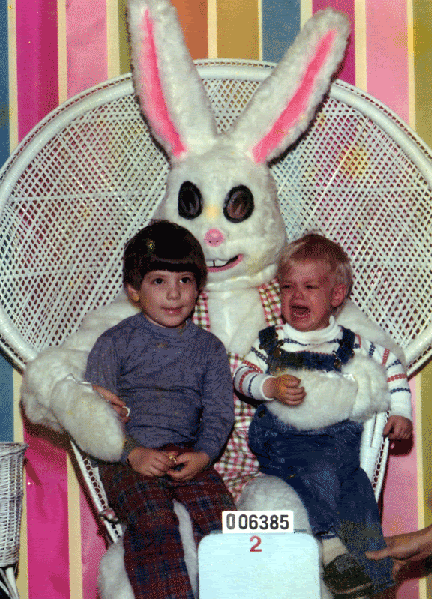 It's Easter and my feelings about that can best be summed up by the blonde kid on the far right.
Anything remotely resembling a celebration of today's holiday was done yesterday by Leah and myself at
Uncommon Ground
and involved drinking bacon-infused bloody marys. We were both intensely underwhelmed by our libations -
let's tank these and order a regular
- but I was most upset that mine didn't have a giant piece of applewood smoked bacon sticking out of it in lieu of a celery stalk. If we'd been at
Halsted's
I'm sure that could've been arranged though since those jag-offs slap a slice on everything on the menu and then charge you two bucks extra for the pleasure.
I suppose I'm paying the price today, too, for what was a pretty awesome Saturday. After brunch Leah introduced me too the wonders of The (American) Office and I now know why everyone and their mother has it listed as one of their favorite shows since it has next to no continuity and it takes about 2.5 seconds to watch an entire season.
Later Jason and I headed up to
Big Chicks
where I ran into one of the single most attractive men I went to college with, but who allegedly has a pretty fierce coke habit. We took Queer Theory together and I never once spoke to him even though I sat next to him every GD day. Last night with the help of some gin, I asked him what he'd been up to and he told me he was teaching which, even in my drunken state, made me worry for Chicago Public Schools.
The DJ then played Janet Jackson's "If" and M.I.A. within the span of an hour and all was right with the universe.